As one of the first software companies working strictly with membership management businesses, ChampionsWay was born from necessity. Developed by a martial arts school owner to solve operational headaches encountered by schools of all sizes, the original MAS (Martial Arts Software) system quickly became a runaway success spurring continuous development of one consolidated system to run attendance, member management, billing, marketing and more. Although still just a handful of employees, the ChampionsWay team was beginning to generate buzz throughout the industry.
ChampionsWay CEO and former world kickboxing champion, Farid Dordar, continued to innovate for a wide variety of business cases incorporating feedback from his own staff along with that of established business owners across North America. The ability to continuously stress-test new features in one of the country's largest martial arts schools resulted in the refinement of a cutting-edge martial arts management system that streamlined school operations while helping school owners bring in more students. The emphasis on increasing revenue while decreasing costs allowed some school owners to double their revenue while cutting operations costs in half.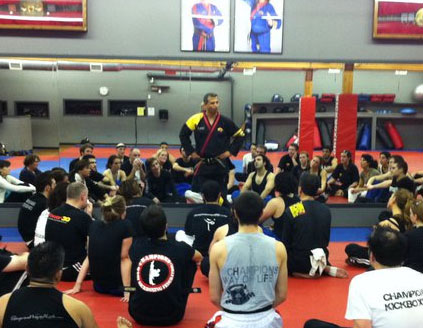 Master Farid Dordar teaching a class at Champions Academy in North Vancouver, Canada
In the early 2000's MAS was beginning to evolve into a solution that could benefit fitness centers, yoga studios and other health & wellness businesses. It was time to enter new markets with a solution that could grow and evolve as required. That solution was PerfectMind. The software was completely rewritten to utilize one of the first cloud-based frameworks that would provide member-based local businesses with the ability to use flexible, secure software without having to purchase expensive computers and undertake complicated installation and maintenance. ChampionsWay continued to evolve as a company and as a brand with PerfectMind as its core product.
Working closely with studio owners, attending conferences and through interactions at our own events, it became clear that school owners and directors were looking for more than just a membership management platform – they were looking for a complete business management solution packaged with additional marketing services and free resources.
Our offering grew to include custom website, search engine optimization, social media and email marketing services. We invested in a marketing department to develop webinars, blog posts, ebooks, infographics and other resources for studio owners.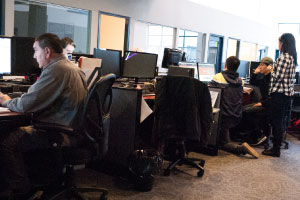 Members of the Digital Marketing team responsible for designing websites and developing SEO, social media and other online marketing services.
Now serving different membership management businesses in the health & wellness industry, it was time to rebrand the company. PerfectMind Inc became the corporate entity serving all markets while ChampionsWay continues as a brand serving our large base of long-time valued clients in the martial arts industry. Not long after rebranding, another key turning point would spur the rapid growth of PerfectMind on a scale never previously imagined.
In 2014, PerfectMind officially entered the enterprise market with a product that would be used by multi-use recreational facilities, academic institutions, school districts and even cities. The PerfectMind product had become scalable, secure and flexible enough to meet the demanding needs of new power users like the City of Surrey (pop. 472,000) and the City of Richmond (pop. 218,000). The company grew from around 60 employees to more than 120 in two short years and the North Vancouver office was bursting at its seams.
In January 2017, the PerfectMind team moved from its 7,500sq ft office to a spacious 20,000 sq ft modern location in neighboring Burnaby. The product development and customer service teams continue to grow dramatically as we strive to develop an industry-leading product with top-tier support. Rapid growth does not come without a few bumps in the road and we continue to adapt and improve in response to the needs of our customers and changes in the marketplace.
The new home of the PerfectMind team in Burnaby, Canada – a spacious, modern office for our ever-expanding team
Our Customer360 initiative began rolling out early this year and has been invaluable in directing development of our product features. Customers now have the ability to submit and upvote feature requests they would like to see added to the platform. Some of these requests are integrated into our product roadmap and rolled out with continuous involvement of our most knowledgeable users. Our PerfectMind University project has been in full swing for nearly a year and we look forward to rolling out an educational portal that will allow our users to train themselves and their staff using an intuitive, cloud-based learning management system that is accessible from all devices.
With all the exciting change underway, we never forget our deep-seated roots in the martial arts community. We're honored to be sponsoring and attending the Martial Arts SuperShow once again this year where we'll be exhibiting as PerfectMind for the first time. As a united PerfectMind brand and platform, we're excited to see familiar faces and to meet new ones at the show.
Our product, company, and the businesses we serve have reached many milestones together since ChampionsWay was born 19 years ago. With the on-going support of our clients, we're committed to continue supporting and empowering martial arts communities around the world.